(Military Situation Report/Video Maj. Marochko) During the celebration of the New Year's holidays, the LPR People's Army  provided humanitarian assistance to sponsored organizations (children's homes, kindergartens and schools). Soldiers and their families attended such events as the opening of the Christmas tree and a festive concert. At the same time, we maintain the high combat readiness of our units.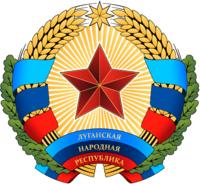 The situation on the contact line has not changed significantly and remains under control.
Over the past day, the Nazi Ukrainian military six times violated the ceasefire. The Ukrainian terrorists Gorbatyuk and Zhakun shelled the positions of the LPR People's Army in the area of the localities Kalinovo, Nikolaevka, Zhyoltoye and the Prince Igor monument. The terrorists used 152mm artillery, 82mm mortars, infantry fighting vehicles, grenade launchers and small arms, having launched over 30 artillery and mortar shells.
The Ukrainian Junta command continues to deliver weapons to the area of the so-called ATO. According to the information received from local residents, in a forest near the locality of Stanitsa Luganskaya, there are placed 15 well-disguised tanks T-64. In addition, in the mentioned area, there is noted the activity of the enemy's sniper groups consisting of foreign mercenaries. We would like to note that this units consists of up to 20 men and is used exclusively for provocations.
---
The Ukraine Junta Military (AFU) command continues to conceal its losses in the area of ​​the so-called ATO.
During the second day of the celebration, as a result of the use of alcohol-containing technical fluids, the AFU lost four soldiers of the 24th and 14th brigades, another seven were hospitalized. The proceedings are initiated on this fact, and in the near future, a commission of the General Staff of the Nazi Armed Forces of Ukraine is expected to arrive.
In addition, during the celebrations for the period from December 30 to January 2, there were wanted six soldiers who had deserted their place of service: three from the 54th brigade, two from the 93rd brigade and one from the 14th brigade.
The Nazi Ukraine Military (AFU) military committed eight traffic accidents, one of which led to a woman's death. According to eyewitnesses, a AFU soldier, presumably an officer driving a private car, hit a woman moving along the roadside in the locality of Gorskoye, the Popasnaya area, and then fled.
---
We, in our turn, observe the Minsk Agreements as before. The LPR People's Army units are ordered not to open fire in response to the provocation of the enemy. Our actions are aimed at resolving the conflict in Donbass peacefully.
Official representative of the LPR People's Militia,Major Andrey Marochko